Holywell Community Centre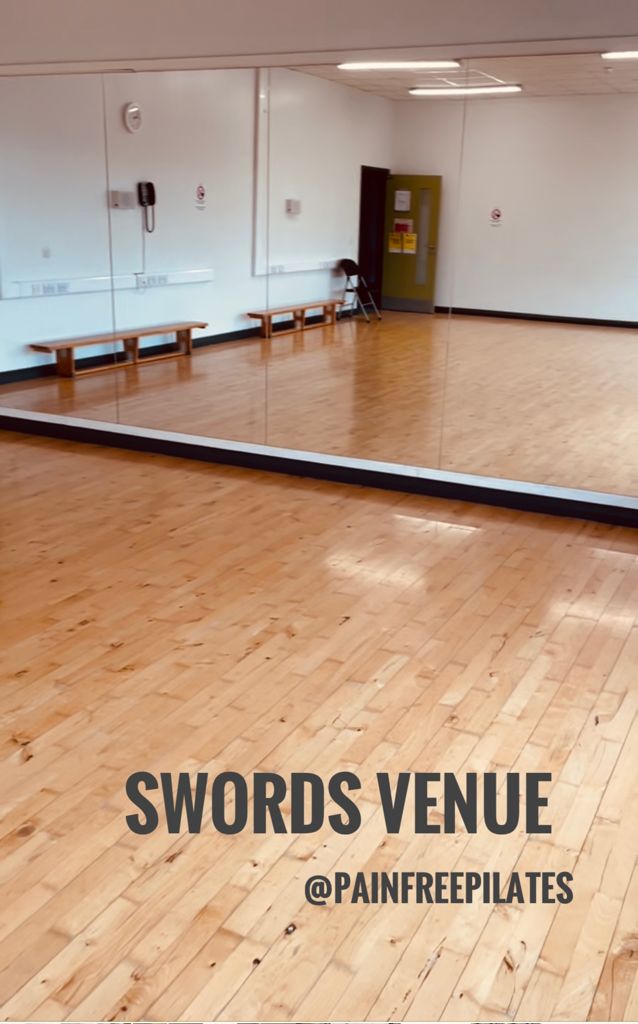 As per Irish Society Of Chartered Physiotherapists guidelines indoor classes will recommence on Monday 27th September for those who are fully vaccinated or recently recovered from COVID-19 (proof).
We have secured the a large dance studio space in Holywell Community Centre in Swords which is well ventilated and a risk assessment has been performed on the space.
Classes will be 50 minutes in duration
Masks will be worn when entering/exiting the building and can only be removed when participant is on their mat. Wearing a mask during the class is optional.
Participants will be required to bring their own mat and no equipment will be provided.
We will recommence with a 6 week block, price 120 euro
New Thursday morning option, see below for details.
Places will be limited and provided on a first come/first served basis upon advertising.
EU digital Covid certificates will be checked on arrival week one. No permission will be provided to enter the class without proof of vaccination.
Please read and understand information on the following link before booking.
Parking should be available for evening classes , however for morning classes you will need to find local parking. Please beware cars are often clamped in the Euro Spar area.
Monday Evenings Beginners & Improvers
| | |
| --- | --- |
| Monday 27 September 2021 | 7.30pm- 8.20pm |
| Monday 4 October 2021 | 7.30pm- 8.20pm |
| Monday 11 October 2021 | 7.30pm- 8.20pm |
| Monday 18 October 2021 | 7.30pm- 8.20pm |
| Monday 25 October 2021 | No Class |
| Monday 1 November 2021 | 7.30pm- 8.20pm |
| Monday 8 November 2021 | 7.30pm- 8.20pm |
Monday Evenings Intermediate Class
| | |
| --- | --- |
| Monday 27 September 2021 | 6.30pm – 7.20p.m |
| Monday 4 October 2021 | 6.30pm – 7.20p.m |
| Monday 11 October 2021 | 6.30pm – 7.20p.m |
| Monday 18 October 2021 | 6.30pm – 7.20p.m |
| Monday 25 October 2021 | No Class |
| Monday 1 November 2021 | 6.30pm – 7.20p.m |
| Monday 8 November 2021 | 6.30pm – 7.20p.m |
Thursday Morning Beginners & Improvers
| | |
| --- | --- |
| Thursday 30 September 2021 | 9.30am-10.20am |
| Thursday 7 October 2021 | 9.30am-10.20am |
| Thursday 14 October 2021 | 9.30am-10.20am |
| Thursday 21 October 2021 | 9.30am-10.20am |
| Thursday 28 October 2021 | No Class |
| Thursday 4 November 2021 | 9.30am-10.20am |
| Thursday 11 November 2021 | 9.30am-10.20am |
Thursday Morning Intermediate
| | |
| --- | --- |
| Thursday 30 September 2021 | 10.30am-11.20am |
| Thursday 7 October 2021 | 10.30am-11.20am |
| Thursday 14 October 2021 | 10.30am-11.20am |
| Thursday 21 October 2021 | 10.30am-11.20am |
| Thursday 28 October 2021 | No Class |
| Thursday 4 November 2021 | 10.30am-11.20am |
| Thursday 11 November 2021 | 10.30am-11.20am |
Holywell Community Centre, Holywell, Swords, Co. Dublin, K67 P8P9

Directions to Holywell Community Centre from Pavilions Shopping Centre
Exit the roundabout onto Malahide Rd/R106
200 m
At the roundabout, take the 2nd exit onto Swords Rd/R106
700 m
At the roundabout, take the 3rd exit onto Mountgorry Way
650 m
At the roundabout, take the 2nd exit
300 m
At the roundabout, take the 1st exit
Go through 2 roundabouts
250 m
Turn left
Destination will be on the left